Keep driving quiet to keep the peace.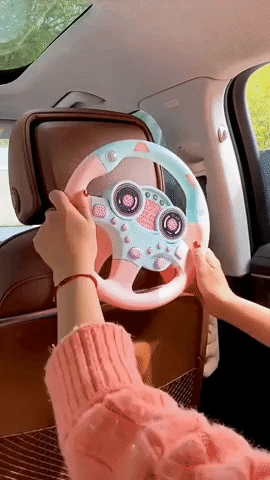 Arguing in a vehicle on the way can be dangerous. An upset driver is no different from an intoxicated one. This steering wheel will let your co-pilot be quiet. She can also show her talent in driving. 
A driver cannot concentrate on driving and schmooze at the same time. Most people yap far too much in their cars and/or do not concentrate on driving. This steering wheel simulator makes your co-pilot no longer feel bored.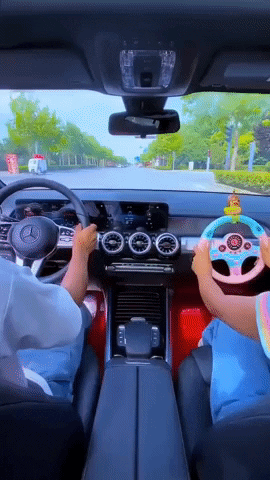 【DRIVING SIMULATOR FOR KIDS】: Ready. Set. Go! Turn the key to start the engine, with light and sound effects that are more realistic and interesting. This immersive steering wheel and key combination keep your child entertained and ignites their imagination. Perfect for car journeys!
【KEY FEATURES & FUNCTIONS】: Realistic driving experience with dashboard features: Indicator lights, horn, sirens, 360-degree rotation, speedometer, Interactive car key, fuel gauge, and hazard lights. Highly simulated real driving, full of fun-This simulated driving steering wheel toy highly restores the real driving scene in terms of appearance and function. Children can learn various traffic knowledge.
【FUN EDUCATION TOY FOR KIDS】: This steering wheel toy has the functions of teaching traffic knowledge, interactive voice, training children's grasping ability, training children's hearing, etc., Aspiring motorists can develop fine motor skills by improving their hand-eye coordination as they imitate their parents.
【SAFETY AND ENVIRONMENTAL】This simulated driving steering wheel toy is made of high-quality ABS material polished smoothly without burrs, won't hurt the child's hands, is strong and durable, not easy to damage, is environmental protection, non-toxic and odorless.
【BATTERY INFORMATION】: Steering wheel needs 3x 1.5v "AA" batteries (not included). The car key needs 2x 1.5v "AA" batteries (not included).
The thickened ABS material is safe, environmentally friendly, and resistant to drop.
The base of the steering wheel can be fixed to the car with straps or nano stickers, without damaging the interior decoration. Three nano-suckers securely lock the steering wheel to the car.
The nano suction cups can be reused after washing with water.
The steering wheel and base are detachable for easy storage.
Unscrew the battery cover near the speaker on the back of the steering wheel with a screwdriver, put in three AA batteries, close the cover, and tighten the screws.
 Dimensions: